Off-Season Wood Stove Maintenance Tips from Bowden's Fireside Hearth & Home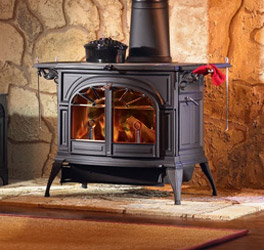 You may be done using your woodstove this year, but this is the best time to see to proper annual maintenance so that when those temperatures begin to dip again in the autumn, your stove will be ready to warm your home as efficiently as you expect it to.  We at Bowden's want you to have the best possible experience with your home heating appliances so we offer these helpful tips for wood stove maintenance, cleaning and basic safety.
When you have a woodstove you know how warm and charming it is when you're all sitting around enjoying the heat.  You also know how messy things look and feel when the stove goes out for the heating season.   You can restore your living room to its pristine beauty by cleaning out all the stove ashes and debris in the stove then clear the ceiling of the box to make sure there are no creosote deposits.  When it comes to cleaning a glass wood box door, make sure to use a glass cleaner manufactured especially for this purpose.  You can finish off the outside appearance with a damp cloth to remove remaining ashes.
Have an annual thorough inspection of all the components as well as a thorough cleaning of the wood box and the stove pipe performed by a certified chimney specialist to ensure that you have a tight seal, no cracked surfaces, or potentially dangerous creosote buildup.  Built up creosote is highly flammable and warping, cracks, and corrosion can cause carbon monoxide leakage.
If following stove inspection, you find that your old reliable woodstove does not pass EPA standards, call the experts at Bowden's and we'll work with you to find the right new appliance for your home.
As soon as you are done using the woodstove, it's time to take care of maintenance for the next winter.  Call Bowden's Fireside Hearth & Home in Hamilton, New Jersey and we'll answer all your questions and guide you in the care of your home heating appliances.
From Hamilton to Perth Amboy, Bowden's Fireside Hearth & Home in Hamilton, New Jersey has been selling, installing, and servicing fire products since 1904.  Our professional experienced staff will listen carefully to your needs and will recommend the product and design that will meet your particular needs whether a fireplace, woodstove, gas stove, or pellet stove.
Your Alternative Energy Source