Inspiration For Decorating Your Fireplace Mantel Year Round
Decorating a fireplace mantel can be challenging, but if executed properly, can make for a beautiful focal point in a room. Need some inspiration for decorating your fireplace mantel year round? Here are nine inspiring ideas to transition your home from Spring to Winter.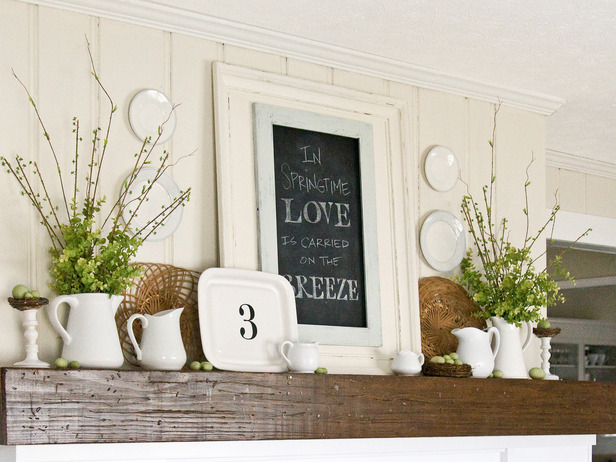 1. Spring Has Sprung
A collection of classic white dishes and pitchers, combined with pops of light-green foliage and birds' eggs, creates a fresh spring-inspired composition. Natural elements, like birds' nests and rattan chargers, give textural contrast to the display. The piece de resistance: the oversized chalkboard, which provides an excellent opportunity to introduce a sweet springtime sentiment.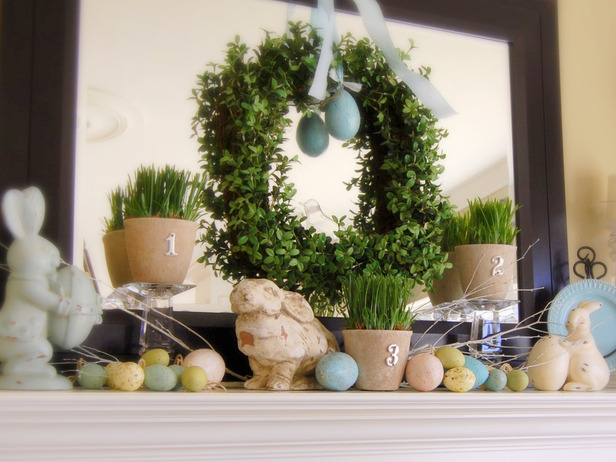 2. An Easter Egg-stravaganza
Blogger Kerri-Lynn Roche uses vintage bunny figurines; a boxwood wreath, painted eggs and potted grass to create a soft and subtle Easter look on her mantel. A large mirror and glass candleholders add shimmer and are a great contrast to all the natural elements.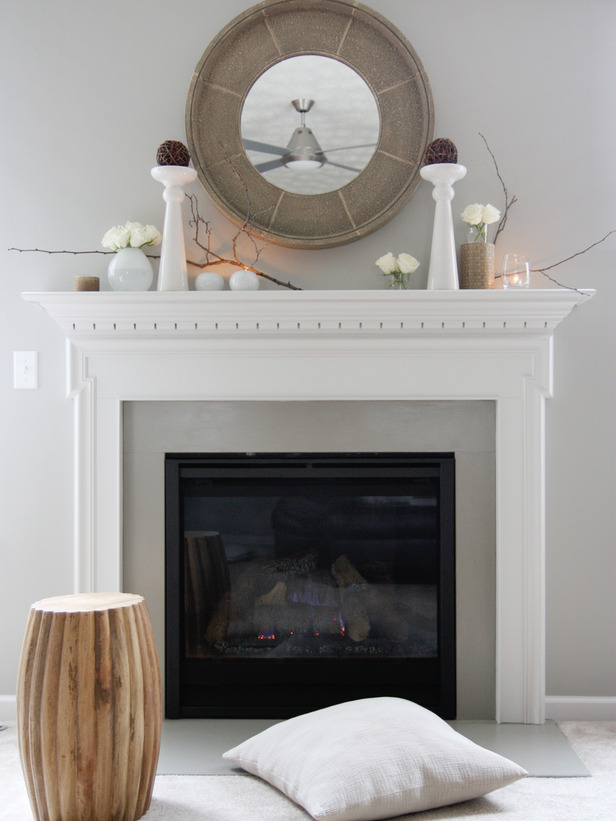 3. Summer-Inspired Mantel
Sticking with a monochromatic palette and classical finishes, such as glass and metal, you can create an ocean-inspired feeling above your fireplace. Beachy accents and a nautical knot ball further illuminate a sense of the sea.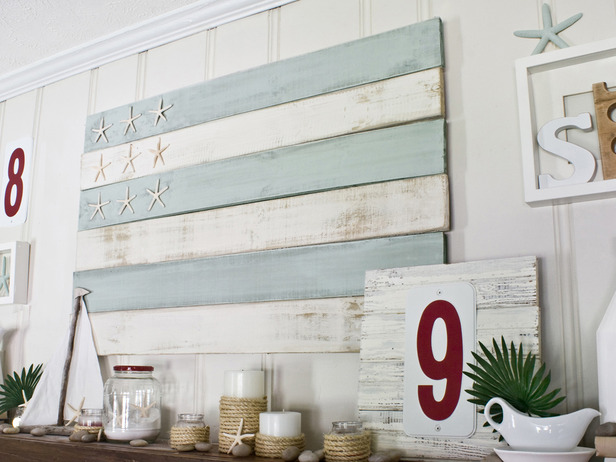 4. Independence Day Decor
Celebrate the Fourth of July by weaving a bit of red, white and blue through your mantel decor. The focal point of this mantel display is the large, wooden flag. Weathered boards, painted white and blue, are used to create the stripes. Several small pencil starfish, secured with hot glue, act as stars. On the mantel itself, rope-wrapped candles, a jar full of sand and shells and a driftwood sailboat help bring in a beachy vibe. A collection of red, white and wood numbers and letters add a whimsical touch to this creative and playful presentation.
5. Simply Spook-tacular Mantel
The mantel is the perfect stage for displaying a spooky collection during Halloween. Here, black spray-painted broom-ends make mysterious topiaries, and cheesecloth "cobwebs" draped across tarnished silver pieces instantly add an eerie feel. In the center, a tarantula under glass and a mirror, temporarily embellished with white craft paint, makes the perfect freaky finishing touch.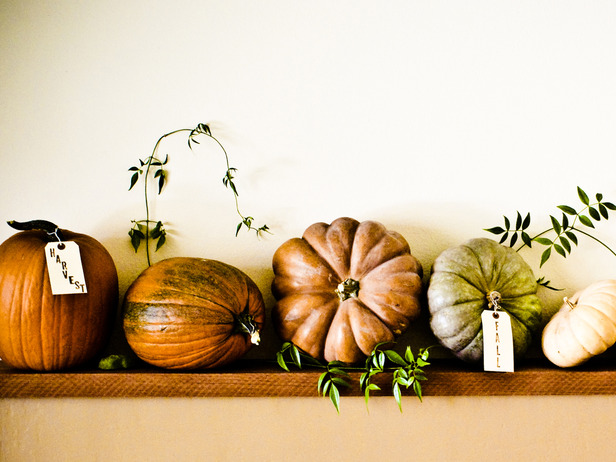 6. A Thanksgiving Spread
A row of colorful heirloom pumpkins can create a simple and elegant autumn-inspired display. Accented with pinecones and a few small hangtags stamped with fall messages, your mantel will ooze with Thanksgiving charm.
7. A Merry Mantel
Handmade stockings, evergreen topiaries and a variety of silver and gold Christmas ornaments (suspended from the ceiling with fishing line and white-headed thumb tacks) come together in holiday harmony to create this traditional Christmas mantel display. To make good use of an unusable firebox, create a "gift topiary." Here, a box wrapped in brown kraft paper, red ribbon and a faux poinsettia sits atop a vintage suitcase and picnic basket.
8. Winter White Mantel
Here, a limited array of understated, cool-toned elements blends perfectly with a simple, contemporary-looking fireplace. You can take cues from the wintry landscape across the country — fluffy snow, naked trees and gray skies, even if it's 80 degrees on Christmas day where you are.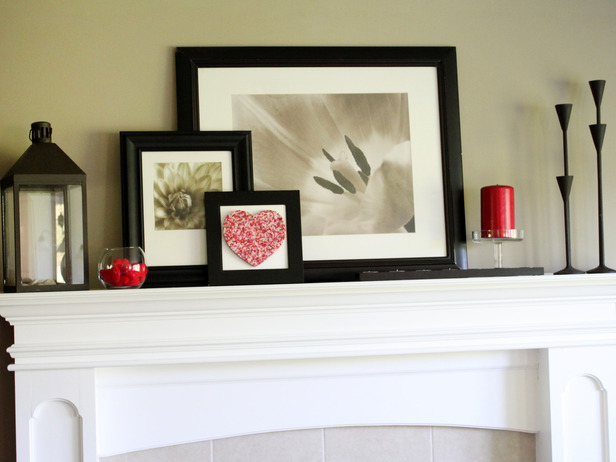 9. Valentine's Day Display
Add a temporary touch of sweetness to any mantel by injecting it with red or pink. On this mantel, red and pink accents pop amongst a variety of crisp black and white elements. To switch up the look after Valentine's Day, just remove the red and pink bits, and replace them with something a little more neutral or that matches the other accent colors in the room.
Are you a seasonal decorator or do you tend to stick with one style all year long? I challenge you to mix things up and start a new tradition of decorating your fireplace's mantel with each new season!