Eclipse® Titan Retractable Solar Screen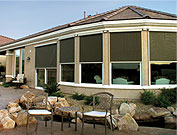 The Titan Solar Screen Shade from Eclipse can be used for applications as wide as 21 feet with maximum drops of 16 feet. The motorized operation is controlled from the inside of the home although the solar shade is mounted on the outside.
Our Solar Shades allow you to enjoy the sun while indoors, but on your terms. Protect yourself and your furnishings from sun glare and damaging UV rays with the touch of a button.