Bowden's is your Local Retractable Awning Dealer.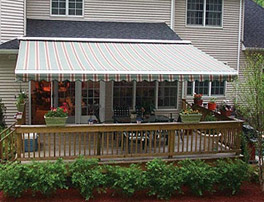 Get ready for summer with Eclipse shading products available at Bowden's Fireside.  You have a lovely backyard with exquisite landscaping that you have lovingly and diligently worked on over the years, but now you are ready to turn the patio into extended outdoor living space that you can enjoy anytime you like.  There's only one thing missing to make your outdoor oasis cooler and more comfortable…an Eclipse retractable awning.
Bowden's Fireside Hearth & Home is your Central New Jersey authorized Eclipse Shading Systems® dealership.  We design and install custom retractable awnings and shading systems for your home or for commercial use, providing the very best in solar protection from the damaging UV rays of the sun.  Outdoor shading keeps the heat of the sun from radiating through the walls and windows of your house so indoor temperatures will stay cooler, placing less demand on your air conditioning system and lowering energy bills.  Solar shading eliminates sun glare on the computer and TV screens while protecting carpet and indoor upholstering from fading.
Bowden's carries the full line of Eclipse shading products, including exterior mount retractable awnings, Eclipse SC® Semi Cassette retractable awnings, the Total Eclipse® long projection motorized awning for large spaces at home or as the perfect awning application for commercial settings such as outdoor dining areas, and the two-sided free-standing retractable Butterfly awning.
Visit the Bowden's showroom in Hamilton, New Jersey to see Eclipse awnings and our experienced consultants will work with you to find the solar protection system that is right for your home and your style with over 200 solution dyed awning fabric colors and designs.  Getting ready for summer is so exciting when you have custom made Eclipse solar shading and accessories for your home.