How A Fireplace Insert Can Warm Up Your Home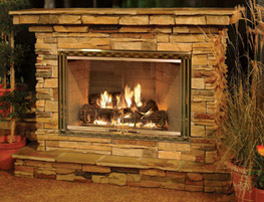 When it gets cold in Hamilton, NJ, your thoughts turn to warming things up with your fireplace. But you never use it because it's hard to maintain and inefficient. If so, a fireplace insert could be the answer.
What is a fireplace insert?
The fireplace insert is a device inserted into an existing fireplace. It's kind of like a stove, and it has a firebox surrounded by a cast iron or steel shell, which delivers the heat into the room. A decorative faceplate covers the space between the insert body and the fireplace opening. Most have self-cleaning glass doors that let you view the flames.
Fireplaces are often inefficient and polluting. They pull warm air out of the room and into the fire. A lot of the energy and heat goes up the chimney and through the surrounding material. When temperatures drop below freezing, a fireplace uses more energy than it creates. An older fireplace might only be 5 to 10 percent efficient.
This is why fireplace inserts are a great option if you already have an open fireplace and chimney. Besides the improved efficiency, they also give your room an attractive focal point.
Properly installed, fireplace inserts are much more efficient for supplemental heating than a traditional fireplace because they create a closed combustion system. Some inserts have a blower that pushes the hot air back into the room through vents. Fresh air enters through vents below, circulates around the main chamber where it's heated up, and the warmed air then exits through vents on the top of the unit.
Fireplace inserts can use any one of several types of fuel: natural gas, propane, EPA-certified wood, pellet, coal and electricity.
Today, fireplace inserts often have additional features, such as fans and thermostatic controls, depending on the fuel type. Electric, propane, and gas fireplace inserts also offer a big timesaving advantage: All you have to do to start the flames is push a button. Depending on the model, this might even be on a remote.
Wouldn't you like to kick back on the couch and start your new fireplace insert from across the room? Let us at Bowden's Fireside help you improve your fireplace with a fireplace insert! If you're a NJ homeowner, call us today at (609) 586-3344.