Cambria Wood Burning Fireplace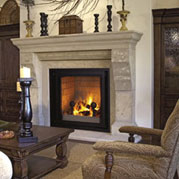 The Dave Signature™ Collection Cambria™ wood-burning fireplace captures the dramatic spirit of the masonry fireplace with its trend-setting louverless design, gorgeous textured firebrick refractory, and stately cast-iron andirons. The unique vertical aspect design of the Cambria is a leader in the movement toward taller wood-burning fireboxes that allow for a magnificently tall, roaring fire. To enhance the viewing area it's retractable glass doors slide into the sides of the fireplace, completely out of view, and pocket firescreens move discretely out of sight when not in use. The ceramic glass doors radiate heat when closed bringing even more warmth into the room and combustion control allows you to customize the heating performance and enhance the burning efficiency.
The Cambria can use a pre-wired optional fan with simple installation through a hidden door in the bottom of the hearth. A gravity duct kit or forced air kit can also be used with the Cambria to enhance heat recovery and distribution. The Cambria utilizes 10″ ASHT+ insulated chimney for maximum performance. Combined, the Cambria offers a distinguished choice that delivers all the advantages of a real masonry fireplace—and then some!