Amazing Double Sided Fireplace Design Ideas
Amazing Double-Sided Fireplace Design Ideas
Want to make your grand fireplace the center of attention in more room than one? Why not consider a double-sided fireplace! This super-sized see-through fireplace option makes twice the impact! With two sides, the unit will enhance the style and drama of any traditional or contemporary home alike. At Bowden's Fireside, we believe in turning houses into homes by creating a warm, comfortable, stylish, and functional environment for you and your family! Let us create a dreamy space for you by incorporating a classy double-sided wood burning fireplace or a stylishly modern gas fireplace insert that lights up more than just one room!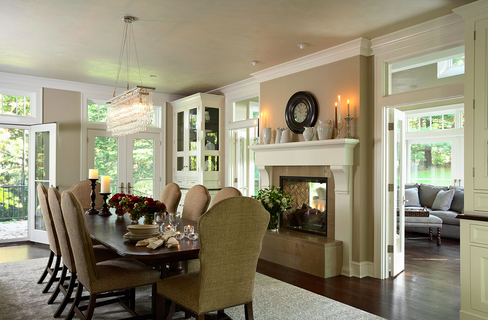 Dining Room & Indoor Porch Double Fireplace
What a lovely way to greet the day – spending a small bit of time warming yourself in the indoor porch/sunroom on a chilly day can be quite relaxing! And when it's really chilly out there, it'd be wonderful to have the option of turning on a double-sided fireplace. Not only will you be able to warm your sunroom, but you can also extend the heated style into your dining room as the family gathers for their morning meal!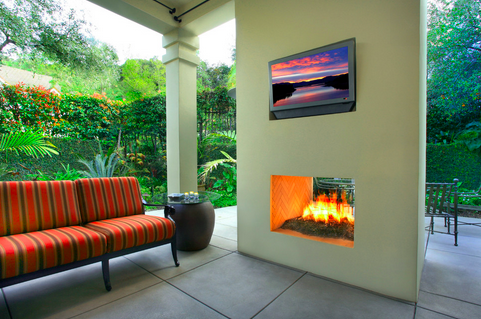 Both Sides Of the Deck Double Fireplace
Now this design will surly have the neighbors asking for another one of your backyard BBQ's if only to admire the elegance of your double-sided outdoor fireplace! Perfect for entertaining in the summer and winter seasons alike, this design offers enough heat and space to warm up all your guests!
Dining & Living Rooms Double Fireplace
Once this gorgeous dining and living room combo double sided fireplace comes into your home you'll be expected to host the holidays just about every year from here on out! A hostess' dream is to provide each guest with a pleasant experience of warmth, comfort, and entertainment. With just this one addition to your home's style you'll provide for all their needs and more!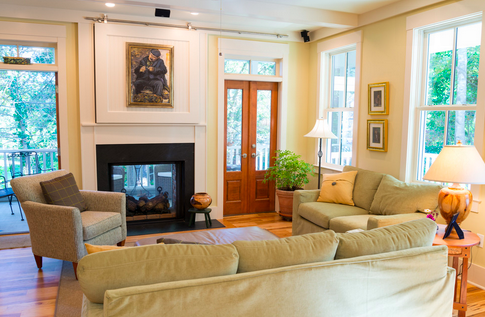 Indoor / Outdoor Double Fireplace
A truly magical way to experience a double-sided fireplace is to bring the outdoors in! Want to listen to the rain but don't want to bring the chill in? Or perhaps you'd like to experience the rain from under your porch but would like some added warmth? Either way you'll be set with an indoor-outdoor combo double-sided fireplace to keep you nice and cozy no matter which side you're on!
Bowden's Fireside wants to make your house a cozy place to live and play – with the addition of a double-sided fireplace that operates on gas or burns actual firewood; we're ready to make your house a home! Be sure to look through our favorite designs and let us know if you're ready to upgrade your fireplaces to create a magical scene with a double-sided fireplace today!